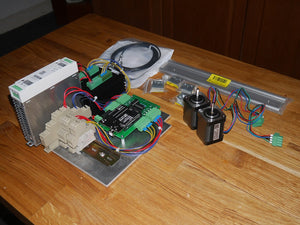 PathPilot compatible ATC controller.
This has all the control functions required to connect an umbrella style tool changer to your PathPilot controlled mill.
The controller kit includes the alloy plate in the picture with all the components mounted on it.  That includes the power supply, stepper drivers, pressure sensor and din rail terminal blocks in addition tot he controller board itself.  This panel is pre-wired and tested, so ready to bolt into your ATC and connect up the motors and solenoid valves.

The picture also shows the sliding rail, stepper motors and proximity switch which are sold as additional items.